In two weeks I will be flying to San Diego for the wedding of this magnificent duo:
That's my brother, Ryan, and his fiance, Ai. Ryan and Ai met in Japan and the rest is history. I don't really know the whole history... but I like where it's going and that's all that matters to me. I am so excited to be able to attend this wedding. My brother is one of my very favorite people in the world and I have had the opportunity to meet Ai (when they came here together last November) and she is absolutely lovely and wonderful, as well. The idea of not being able to go was just unfathomable and so, because my husband is so gracious, we were able to set aside a huge chunk of our budget so that I would be able to fly out there!
So I have two weeks left until I leave and I am still stuck on what to wear for the wedding. I have this dress that fit me about 20 lbs ago...
That's the only pic I have of myself in the dress but it looks similar to this: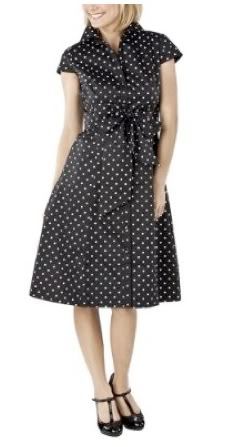 I just tried it on and I can button it but I don't know if I would feel comfortable wearing it all night. However, it's cute and it's brown (perfect for a fall wedding) and it's already been bought. Three very nice factors. I'm wondering if I could lose enough before I leave to just feel comfortable in this dress. Otherwise I have this one...
however, it is very low cut which means I will be pulling up on it all night and my mom will probably say something about me looking like I belong in a porno or something and, well, yeah. I don't really want that. Plus it is made out of material that odor clings to and so I can't seem to get rid of the body odor smell eminating from the armpit area and just won't do either. Anyone have any tips for that? I have washed it but it still has a lingering smell.
I also have a cute top and skirt I could wear but I prefer the idea of wearing a dress. Of course, my adorable sisters will be there wearing their adorable dresses and we'll probably all be in pictures together and I don't want to stand out looking like a loser. I don't really have the money to buy a new dress, either, so that option is pretty much out unless I am completely desperate. Sigh...
So let's all join hands and pray that I will fit into my brown dress. It's what I really want to wear. :)